12 Best Breast Pumps in Singapore 2023: Price and Reviews
What is the difference between breast pumps?



Here are the differences between the four main types of breast pumps:

Double-electric breast pumps: These powerful electric models let you pump both breasts at once, important if speed is a concern.

Single-electric breast pumps: You'll only be able to pump one breast at a time, which can take longer. On the plus side, these cost less than a double-electric pump.

Battery-operated breast pumps: These can be slower and run through batteries pretty quickly. The advantage of a battery-operated pump is that they're portable and helpful if you don't have access to an electrical outlet (such as when you're commuting to work or traveling).

Manual breast pumps: These are lightweight, portable and inexpensive. The downside? You'll be doing a lot of the work yourself and you may not get as much milk as a result.
What's the Best Breast Pump?
There are a lot of breast pumps on the market to choose from. So, how do you decide which breast pump makes the most sense for your situation?



We went deep into Google search and research on the breast pump reviews to figure out the best breast pumps currently in the Singapore market.
Below, you can check out our top picks.
Best Breast Pump Singapore Brands
1. Haakaa Silicone Manual Breast Pump - Haakaa Breast Pump Singapore
Haakaa Silicone Breast Pump is made from 100% medical grade, eco-friendly and simple to use.

This compact pump is perfect for long distance trips, planes, car rides, family BBQ's or anywhere you would like to discretely express, quickly. Simply suction to your breast and let the pump do the work for you as it draws your milk using suction. Fits perfectly into any handbag or baby bag!

PA, PVC and Phthalate free. No cords, batteries or assembly required.

Clean after each use. This product can be sterilised with any steam sterilising system or boiling water. No bleach based agents.

Portable Breast Pump Singapore
Ratings: 4.8/5 - More than 140 Ratings (Lazada)
Simple and effective. I was using an electric pump but it was causing discomfort to my breasts and nipples. This one gives me the same results and allows for easier expression after I'm finished collecting. I use pump exclusively since my newborn cannot properly latch. This is a real "nipple" saver.
Price on Lazada: SGD 19.90 >
Buy at Lazada
2. Real Bubee Double Electric Breast Pump - Real Bubee Breast Pump Singapore
BPA Free, Safe PP material, No harmful substances

Red light for massage mode and green light for suction mode

Small & Compact

Uses USB Power

Silent motor with mellow and fashion design, only 40-50 decibel. Low power, little vibration, low noise, smooth running.

Double breast suction design / Soft warm massage cushion gently stimulates milk flow.

The electric breast pump can easily control suction, adjust strength freely

PUMP IN COMFORT: Petal massage cup and baby bottles & nipples for easy pumping, storage & feeding; portable breast pump fits easily a diaper bag
Ratings: 4.8/5 - More than 150 Ratings (
Lazada
)
I bought this one for $40 and the Ameda pump for $200. I prefer the real bubee double/single breast pump, I found this one have better suction and easier to carry around, plus the price is not bad at all. I have been recommending this pump to every new mom I know. I carry with me everywhere I go this pump and a portable power bank from anker (Anker 20000mAh Portable Charger PowerCore 20100) it could last me up to a week and a half before I have to charge it again, and pump every 3 to 4 hours now that my daughter is 6 months old. Highly recommend.
3. Spectra S1+ Double Electric Breast Pump - Hospital Grade Breast Pump Singapore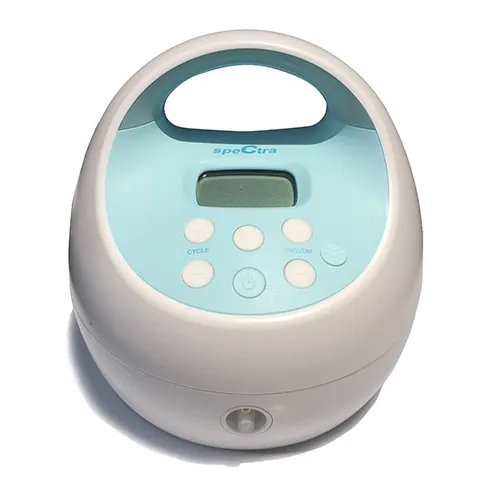 - Natural Nursing Technology
Our Spectra S1 electric breast pump features technology that allows comfortable suction levels that mimic the experience of natural breastfeeding as closely as possible
The Spectra S1 is portable and rechargeable, making it ideal for an on-the-go mom, with the back compartment that fits a Spectra bottle
- Single or Double Pumping
Can be used as a single electric breast pump or a double electric breast pump and for best results, authentic Spectra Baby accessories are recommended
Spectra backflow protector creates a complete physical barrier between your milk and the pump motor, ensuring that your milk is protected while also being easy to clean and maintain
We`ve committed our lives to providing the best breast pumps, accessories, education, and customer care that we can, supporting every mother with the beauty of parenthood
Wow. Just wow. Why did I not hear of this pump sooner? Comfortable, portable, lightweight, oh- and more than double the milk!! Seriously, it is almost a crime that the insurance companies just give out inferior pumps when this is available. I was concerned when returning to work with my second baby that I would not be able to produce enough milk. With my first, I pumped like 6 times a day at work to make enough with my Medela PISA. Now, those worries are gone. Totally gone! The proof is in the pictures. 10 mins of total comfort and quiet on the Spectra vs 20 mins of loud wrenching and pulling on the PISA.
Price on Lazada:
starting from
SGD 329 >
Buy at Lazada
4. Cimilre S6 Plus - Best Electric Breast Pump Singapore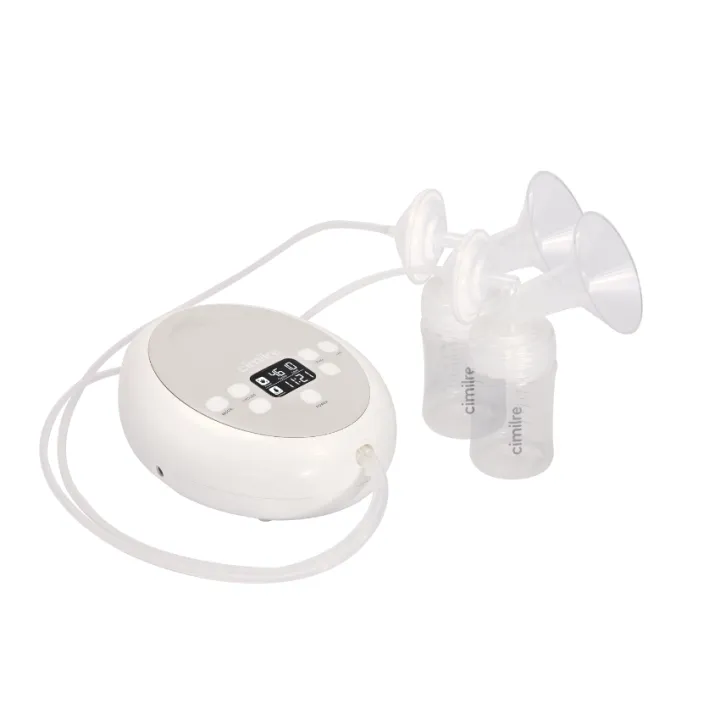 Rechargeable Electric Hands Free Breast Pump

With a rechargeable battery life of about 4 hours.

ULTRA quiet - Pump discreetly with a 38-decibel hum. So quiet it won't wake baby.

Closed System - Backflow prevention keeps the motor and tubing clean, preventing contamination.

Pump How You Want - Single or double pumping, and 5 cycle and 12 level expression options to choose from.

Ease of Use - Simple setup and easy customization options.

Backlit LCD Screen

Night Light - Built-in LED night light with three different settings. Perfect for pumping while your baby is sleeping.

Auto Shut-Off - Turns off automatically after 30 minutes of use.

Portable Breast Pump Singapore

Just 850g. Built compact for easy mobility.

Includes a pair of 24mm & 27mm silicone inserts for 28mm Free-T breast shields (hands-free) in every set.

Comes with Singapore plug, 2-year Singapore warranty and free rental pump during the warranty period
Ratings: 4.9 / 5 - More than 100 Ratings (Lazada)


First time user of electric breast pumps and am very glad to have chosen Cimilre S6+ after considering all the usual brands like Spectra and Medela. Very easy to use, even the hospital staff who were not familiar with Cimilre said it is very easy to assemble and use without needing to read the instructions. Very quiet and very comfortable and efficient to use. Fast delivery as well with a free child monitoring cam - just what I needed! Very pleased and highly recommended!

Price on Lazada: SGD269 >

Buy at Lazada
5. Youha Gen 2 Handsfree Breast Pump -

Wearable Breast Pump Singapore
Everything fits under your bra! Breast shield, collecting cup and pump unit

3 Modes

Massage (to soothe or prepare the breast for pumping)
Expression (continuous suction to pump breastmilk)
Mixed (cycles between modes to stimulate more breastmilk flow)

Each mode (Massage, Expression, Mixed) has 10 levels intensity adjustment/frequency

Features quiet mode for discreet and silent pumping (<60dB)

Memory function - switch on and it starts on the same mode that you last used

Rechargeable breast pump with battery indicator

Closed system pump prevents backflow, thanks to the silicone membrane in the cup that acts as a backflow protector

USB-C cable for convenient charging, charge with your USB power plug, even computer, laptop, power bank and more

Auto shut off after 30 min

Intuitive and easy to use one-button design with (+/-) touch buttons to adjust intensity for Massage & Expression, frequency for Mixed

Breast shield made of full silicone is soft and comfortable and fits well over breast

Made with food grade PP plastic and silicone, BPA free, Phthalate free

All-in-one device. Easy to assemble and clean

Dimensions: 11.5(h) x 7.5(d) cm
Bought 2 sets of this after i got tired of hand holding usual flanges. Compared the output of Youha vs my other breast pump device using flanges and found my output similar / same. I like that Youha is cordless and i can move around easily while it sits in my nursing bra. I give this a 4 star review due to one downside - the need to position the device carefully / properly so that it sits properly at an angle that does not spill out the pumped milk. I've experienced once where my nursing bra was soaked underneath due to incorrect positioning of device (was tilting downwards, thus leaking from the bottom). Also the pumps are a bit bulky sitting in the nursing bra and is definitely not discreet. Lesser parts to wash than flanges set up though.
6. Elvie Electric Breast Pump - Elvie Breast Pump Singapore
Elvie Pump is a silent wearable electric breast pump that can be connected to a free app for additional features. Completely redesigned for modern lives, Elvie Pump makes it possible to pump anytime, anywhere.
How To Use
Simply place the pump in your nursing bra, turn it on and press. Play on the pump or in the app to start your pumping session. Elvie Pump will automatically switch from Stimulation to Expression mode and will stop pumping when the bottle is full. Elvie Pump is designed to fit in your bra, and your life - so you can go about your daily routine while you pump.
Elvie Pump can be used with or without connecting to the app. The free Elvie Pump app is available for download from the Apple App Store and Google Play Store. Elvie Pump is compatible with iPhone 5S and later (iOS10+) and Android 6 and newer versions that support Bluetooth Smart / Bluetooth Low Energy (excluding Huawei phones).
Wearable
Small and lightweight, worn inside a nursing bra, making it hands-free.
Silent
Hassle-free
Just five parts to clean and takes seconds to assemble. No cords, no wardrobe changes, no fuss.
Smart - Download the free app to monitor milk volume in real time, track pumping history for each breast and control the pump remotely.
Warranty
2 year warranty on the Hub (pump mechanism) and 90 day warranty on the washable components. For complete warranty, see the Instructions for Use inside the packaging.
Elvie Breast Pump Set
1 Hub (pump mechanism)2 Bottles (150ml/5oz)2 Storage Lids1 Breast Shield (24mm)1 Breast Shield (28mm)2 Valves2 Spouts2 Seals2 Bra Adjusters1 USB Charging Cable1 Carry Bag
Specifications (per pump)
- Size: H12.8 x W11 x D6.8 cm
- Milk capacity: 150ml bottle
This is the third pump that I've tried (Spectra S2 and freeme were the other two). Not being tied to the wall or having tubes is amazing. I wish I would have just gone straight to this one. The portability and awesome customer service outweighs all negatives IMO.
Pros:
1. Portable
2. Decent battery life (I can pump at least four 20 minutes sessions)
3. Easy to assemble and wash
4. Comes with four bottles instead of two (other pumps did two)
5. Amazing customer service
Cons
1. Sensors aren't great and often predict inaccurate amounts. While the bottle holds 5 ounces, it stops between 3.5 to 4 for the change out. Not a huge deal, but annoying. (Depends on posture, I've noticed.)
2. App is buggy and loses connection to pumps often (usually auto recovers). Also has issues with updating pumped amounts.
Price on Lazada
7. Philips Avent Single Electric Breast Pump - Philips Avent Breast Pump Set
Comfortable pumping position due to unique design

Soft massage cushion gently stimulates milk flow

Power cushion for extra suction

Choose the most effective and comfortable setting for you

Designed to let you express quietly

Few separate parts and intuitive design

Includes our Natural bottle and nipple for natural latch on

Pump in storage containers

For safe storage and transport

Silky soft feel, breathable material

Breast Pump Set with Travel Bag
I have nothing but praises for this little unit. First of all just by the unboxing , you can tell the unit is compact and it is quite light in the hands. It can be charged by micro USB so it is more convenient when you have to travel, less things to bring means less things to forget. And by the looks of it I guess you can purchase the additional handle and use it like a manual pump Secondly it is so much more comfortable from the other brands that i have used, its hard to describe but you don't
Price on Lazada: SGD 339 >
Buy at Lazada
8. Spectra 9+ Portable Breast Pump - Breast Pump Singapore Korean Brand
Double-sided pumping

Closed system which prevents breast milk backflow into the motor

With 5-level Massage mode and 10 Level Suction/Speed adjustment

Much quieter than traditional electric breast pumps

Built-in rechargeable battery

Suction pressure of 300 mmHg

Super easy to clean

Portable Breast Pump Singapore

Spectra Breast Pump Set
- it is portable / battery (doesn't always need to plug into a wall)
- it has a timer so you know exactly how long you've been pumping
- it is small and compact = great for travel
- it automatically stops pumping after thirty minutes
- the bottles included have easy to read measurements so it's easy to see how much you pumped
- It does not automatically switch from massage to expression after two minutes like the Medela so you have to pay attention and make the switch
- it has more parts which is annoying in assembling as well as washing
- ultimately it is slightly less powerful than the Medela pump in style but it gets the job done 98% of the time
9. Medela Freestyle Double Electric Breast Pump - Medela Breast Pump Singapore
Medela Breast Pump Set

Double electric, daily use breast pump

2-Phase Expression Technology

One Touch Let-Down button

Rechargeable battery

Compact and lightweight motor

Portable microfiber carry bag

6 months / 12 months Local seller warranty

Electric Breast Pump Singapore
- two PersonalFit breast shields (Size M, 24 mm)
- two connectors assembled, PVC tubing • four breast milk bottles with imprint (150 ml)
- disposable nursing pads (4-pack)
The Medela Freestyle is a high-quality product that gets the job done efficiently and comfortably. The majority of our parent testers rated the quality of the Medela Freestyle Double Electric Breast Pump as very good and said they were very satisfied with it. While the price point of the Freestyle is on the higher end, all of our testers said they would buy this pump, and the majority also said they'd recommend it to other moms or moms-to-be. The Freestyle is truly an on-the-go pumping system, with a rechargeable battery (a rarity among double pumps) and accessories that span everything you could possibly need to pump and safely store milk.
Price on Lazada: SGD 549 >
Buy at Lazada
10. Hegen PCTO Double Electric Breast Pump - Hegen Breast Pump Singapore
Kneading massage feature

The flexibility of switching from a single to double electric or manual pumping

Lightweight, compact and mobile.

Hassle-free charging with a USB charging port.

Automatic massage mode promotes healthy milk flow by stimulating let-down reflex just like the natural suckling of your baby.

Easily adjustable suction levels ranging from 1 to 12

3 expression rhythms - slow, medium or fast

No screw thread one-handed closure. Press-to-Close, Twist-to-Open, PCTO™ innovation for hassle-free handling and avoiding spillage.

Secured closure protects precious nutrients from oxidation and keeps breastmilk fresh.

Express, Store and Feed within a single container with interchangeable pump or adapters, feeding collars and storage lids.

Minimal and easily removable parts make cleaning exceptionally easy.

Hegen Breast Pump with Bottle

Hegen Electric Breast Pump Set
Contents
1 x Electric Breast Pump Device

2 x PCTO™ Pump Body with Seal and Valve

1 x Kneading Ring

2 x ECap

2 x E-Diaphragm

2 x Silicone Tubing

1 x Manual Diaphragm with Stem

1 x Handle with Pivot

1 x Power Adapter

2 x Hegen PCTO™ 150ml/5oz Breast Milk Storage Containers PPSU

2 x Hegen PCTO™ Breast Milk Storage Lids Pink

2 x Hegen Seals
Storing of milk is so easy with this pump. All I have to do is just change from pump to lid and I can store the milk immediately after pump. Suction of pump is strong. Assembling the parts is easy but there may be some issue with the suction if part is not assembled accordingly at times. Overall is a good pump, very portable and easy to use!
11. Mamon Electric Breast Pump


1. Innovative wearable integrated design, truly hands-free
2. SPA level sucking experience, milk up, milk blocking say goodbye
3. Two modes: massage mode and sucking mode to simulate the real sucking of baby
4. Silicone breast mask, natural fit, soft skin
5. Anti counter current design, avoid milk backflow or overflow, protect milk pure and pollution-free
6. 1200mAh high capacity lithium battery
7. Quiet and low noise, not disturbing baby's dream
8. Built in intelligent memory to remember your preferences
9. Split detachable design, easy to disinfect and clean


- Wearable Breast Pump Singapore
- Hands Free Breast Pump Singapore
12. Philips Avent Manual Breast Pump - Philips Avent Breast Pump Singapore
More comfortable pumping position due to unique design

Soft, textured massage cushion helps stimulate milk flow

Compact, lightweight design of the pump body makes it easy to hold and position on your breast

Compatible with other Philips Avent feeding products, such as Natural and Anti colic bottles and breast milk storage containers.

BPA Free, Bottle material-Polypropylene Nipple material-Silicone

Portable Breast Pump Singapore
Love this pump! I can get more using this pump than using my electric one, and in HALF the time. Saves my sanity...Pieces are easy to assemble and clean and the silicone pad for the flange does make it a tiny bit more comfortable. Small, discreet, quiet, and lightweight. Perfect for travel, or in my case, daily pumps at work.
Tip for use - once you let down just hold down the lever and ride out the flow. You do not have to constantly be squeezing the lever to pump milk (until towards the end of your session.)
Just so you know, we may earn commission from shopping links. This revenue helps us to fund our expenditure across our network. Thank you for your support.