15 Best Baby Cots in Singapore 2023: Reviews and Prices
Do you know the difference between a baby crib, a co-sleeper, playpen a baby cot bed? There's a lot to get your head around as a new parent when it comes to buying a bed for your baby.
Baby Cribs vs Co-sleepers
Baby cribs are useful up to six months, and offer a more secure enclosure. Some have a rocking or gliding motion that helps your baby sleep.
Co-sleepers are a type of crib with one retractable side – these let you safely sleep with your baby, without sharing the bed and covers.

Once your baby is able to sit up and be more active, a baby cot is the best solution. These adjust in height for maximum use as your baby grows. Cot beds have even more use, as they can convert into a bed to see you through the toddler years too.
Baby Cot vs Playpen
The key difference between a baby cot and playpen is their purpose. A baby cot is a piece of furniture that is used for sleeping whereas a playpen is a secure playing area to keep the baby when the parents are occupied. A playpen may have many toys within the playpen whereas you wouldn't want toys to be inside a baby cot, meant for sleeping.
Best Baby Cots in Singapore 2023
It can be hard to find the right baby cot for your baby because there are so many different brands and models out there, both online and retail stores.

So, we went deep into Google search and reviews on Singapore online forums to figure out recommended and best baby cots currently in the Singapore market.




In no particular order, here's our selection.




Sweet Dreams baby cot is one of the cheapest baby cots you can find in Singapore. It is large and solid enough and is suitable for newborn to 6 years old.
Suitable from birth to 6 years

4 adjustable heights (28cm, 43cm, 58cm, 79cm from floor)

Removable / lockable castor wheels

Non-toxic paint

Colour - White to fit any decor

Premium New Zealand pine wood

Complies with European Safety Standard – EN 716

Extra one square bed rail for toddler bed

Extra one white board for study desk

Two teething rails on top side of panels
Sweet Dreams Convertible 7-In-1 Baby Cot Review
Just fixed up the baby cot. Very nice white finishing. It is smooth and stable. Affordable and would highly recommend. Palette Box was very nice enough to upgrade the mattress for free due to no stock for what I have ordered and they actually called me personally to inform me as a customer. Good customer service!
Highly recommended. Quick delivery and seller was very responsive to all my questions. Easy to install, the wood looks sturdy, paint is fine, no smell and finishing is very smooth too. Thanks for a good baby cot with affordable price.
Sweet Dreams Convertible 7-In-1 Baby Cot Price
Cot Exterior Dimension: 124x69x90cm (LxWxH)
Interior size: 117cm (L) x 59cm (W)
• Drop side mechanism
• 5 base height adjustments (not inclusive of mattress): 25cm/30cm/35cm/40cm/45cm
• 5-in-1 Conversions: Bed Side Bed, Toddler's Bed, Kid's Bench, Playpen & Storage Space
• Removable & lockable castor wheels
• Non-toxic paint
• New Zealand Pine Wood
• Max weight load: 30kg
• Available in White
• Highest European Safety Standards: EN716
• Free installation + 1 Year Warranty (Only when purchased with mattress)
Mattress
Beautifully handmade using our sumptuously soft cotton, our luxurious Happy Cot mattresses are the perfect match for your baby's delicate skin. Cotton mattress is a great choice as it's naturally comfortable, offering great support and breathability, helping to keep your mattress cleaner and fresher.
Very happy with the purchase. The dimensions and the height of the crib is just perfectly in line with the height of the bed. The person who came for installation also very patiently explained the gate mechanism, setting up the different heights for the different growth stages and answered all our questions. The mattress is also of great quality. Looks sturdy as well and an added bonus that the crib has wheels to move it around or can lock it in place. Definitely recommend !!
Jarrons and Co 5-in-1 Cot Price
- Suitable for babies up to 3 years
- Baby cot with a Relax System and LED lights
- Designed and manufactured in Spain with beech wood from sustained forests.
- 2 position bed-frame
- Relax system (2 tilt positions - 7º to 10º)
- Removable & lockable castor wheels
- Lacquered beech wood
The inclination improves breathing, reduces the pressure exerted by the head on the mattress, reduces the possibility of positional plagiocephaly, helping digestion and reducing regurgitation. This system also..
- Facilitates breathing in case of cold
- Reduces drowning possibilities caused by vomiting
- Reduces baby wind accumulation
- Reduces cot death risks
- Free 2 Year Local Warranty
- Free Delivery & Installation
- Free 4" High Density Foam Mattress, Upgrades Available
Material - MDF Beech Plywood
Exterior size: 125 cm (L) x 66 cm (W) x 120 cm (H)
Interior size: 120 cm (L) x 60 cm (W)
Micuna Dolce Luce Baby Cot Price
- Forms : Bed-side bed, swing, cot, foldable bed
- Foldable baby cot singapore
- Rocking bed soothe baby to sleep
- 5° angle perfect for baby feeding time
- Quality quiet wheels 360° rotating
- With lock option to ensure cot doesn't move around
- 2 adjustable height options for easy access to baby
- Suitable for 0-2years
- Includes a Mattress and Mosquito Net
- Top up for better mattress: 2" waterproof mattress
- Cheap Baby Cot Singapore
BC Baby Portable Baby Cot Singapore Price
Beblum Lavo 5 is not only a baby cot. You can transform it into a co-sleeper, playpen, junior bed and even a sofa with a few simple adjustments.
The cot is adjustable in terms of height too, which is very useful if you plan to use it as a co-sleeper. It'll be able to match the height of your own bed perfectly. Its flexibility and value-for-money pricing makes the Beblum Lavo 5 an excellent choice for your baby.
Different Ways of Use

Cotside Bed (Adjustable 9 Positions 60 x 120cm)

Baby Crib and Junior Bed (Adjustable 9 Positions)

Sofa

Playpen (120 x 60CM)

Colour: Natural

German Beechwood + Birchwood + NZ Pinewood

Weight: 25 kg

Size: 120 x 60CM

From top to wheel: 90cm

From first level to wheel: 55cm

Gap between the bars: 5cm
Beblum Lavo 5 Baby Cot Singapore Price
5 functions in 1 : Baby cot > bedside crib > play pen > toddler bed > study table
Best Convertible Baby Cot
4 adjustable mattress levels
Made from Imported New Zealand A-Grade premium pine wood
Recommended Age: 0 months to 6 years old
Maximum weight :
Dimension: L125x W85x H105cm
Thickness: 4cm
Puku Baby Cot Price
Suitable from birth up to 9 kg

Travel bag included for easy transport

Soft mattress is included.

Ability to sleep close to your baby without having to share the same bed

Simple and safe fastening system to attach to parent's bed.

Wider netted sides to improve airflow around the crib, and enhanced visibility into the crib

Mesh window that ensures better air circulation

Equipped with soft mattress and delicate cotton

Adjustable to 11 height positions to ensure compatibility with beds and drawers

Tilted slightly at a recommended angle for safe and comfortable sleep of the baby, and help with congestion and reflux

Removable and washable lining.

Padded sides for extra comfort
Chicco Next2Me Crib Price
Out of stock? Find on Lazada or Shopee
- Baby Playpen With Sliding Side Door : Allows parents to sleep with their baby side by side
- Travel cot comes with basic Mattress.
- Made of 100% polyester.
- For children from birth up to 36 months or a maximum weight of 15kg.
- Two lockable wheels create easier mobility while cot is in use.
Contents
- Removable bassinet
- Removable changing station
- Canopy shade with mosquito net & hanging soft toys.
- Very easy fold mechanism and comes with a carrying bag for easy travel.
- Frontal entry with zipper, sewn on the opposite side is a handy pouch for storing items.
- See-through safety meshes on the sides to help keep an eye on your child.
- A soft padded board with rounded edges.
- Options for an additional mattress.
- 6 Month mechanical Parts warranty.
- Net Weight : 10 kg
Size
SIZE OF COT : Length 109 cm x Width 79 cm x Height 76 cm
BED AREA : Length 103 cm x Width 67 cm
CHANGING AREA: Length 65 cm x Width 40 cm approx.
SIDE ENTRY : Height 48 cm x Width 45 cm approx.
FOLDED : 76cm x 24cm x 23cm
Size Of Mattress : Width 67cm, Length 103cm
Mamakiddies Baby Cot Singapore Price
Features
- Comes with changing table
- Functions as a crib with a portable seat that features soothing vibrations
- Also functions as an infant bassinet which then transforms into a
- Can also function as a toddlers playard.
- Contains large diaper changer that functions as a changing spot
- Contains 3-in-1 built-in storage at the side.
- Storage : Fold and pack the item into the inclusive carry bag for a no-fuss convenient travel experience.
- Durable frame makes this playard ideal for travel
- Automatic folding feet and wheels allow for a more compact fold
- Signature Graco® push-button fold makes closing your playard quick and hassle-free
- Handy wheels for added convenience
- Airy mesh on all sides for maximum ventilation
- Convenient carrying bag for no-fuss travel and storage
- Removable, full-size bassinet provides the perfect spot for baby to catch a nap at home or away
- More than 5 colours to choose from
- Suitable for babies up to 3 years old
- Cheap Baby Cot Singapore
Graco Pack n Play Price
Designed to grow with your child, the Natty Cot Bed has two base height levels to accommodate for newborn and older babies. When the time comes it can then be transformed into a toddler bed with two guarded sides using parts from the cot end panels.
With rounded corners and playful angled feet, our Natty Cot Bed will make a charming addition to the nursery. Its modern aesthetic makes it perfect for those looking for a cot to fit in seamlessly with Scandinavian or contemporary design schemes.
Height: 91cm | Width: 79.4cm | Length: 140cm
Age 0 - 5 Years
- Modern, Scandi cot bed with round corners, angled feet and muted two-tone colour palette
- Our unique paint finishes are nursery-friendly and enhance the natural beauty of our wood's grain
- Two base heights: higher base height for easy access to newborns, lower base height for when baby is able to pull themselves up
- Can later be converted into a toddler bed with two guarded sides using parts from the cot end panels. - - No separate purchase of conversion kit required
- Crafted from a combination of engineered timber with Oak-effect laminate
- No dropside for the cot.
- Required cot bed mattress 132cm x 70cm. Mattress not included
Boori Natty Cot Bed Singapore Price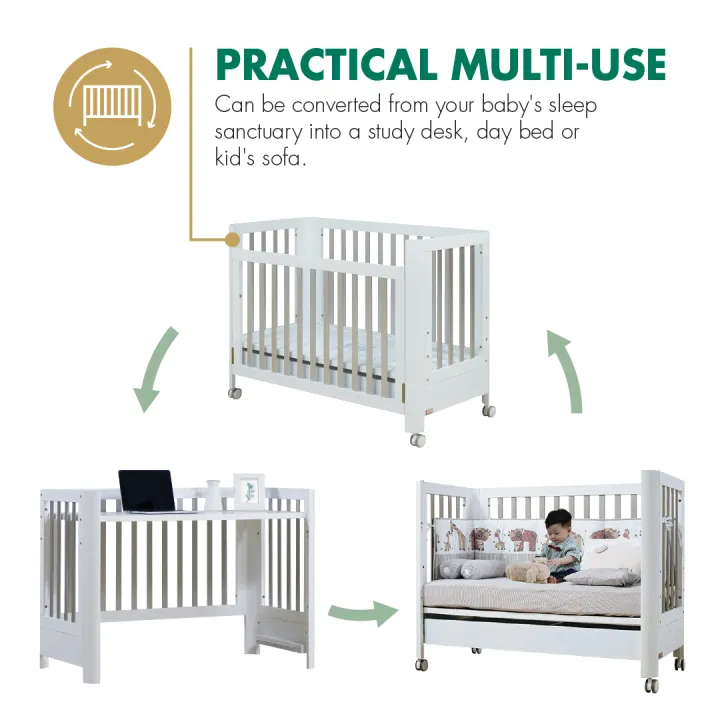 Specially designed for multi-purpose use, the Togetha Baby Cot can be converted from your baby's sleep sanctuary into a study desk, day bed or kid's sofa. The functional baby cot also lets you adjust from 3 height settings so you may modify it to suit your baby's growth stage, with a lock gate that can easily be maneuvered with one hand while you hold the baby.
The pull out drawers let you store your baby's needs conveniently, while the rollers with stopper function let you move the cot where you need it. Made of solid rubberwood with non-toxic finishing, it is VOC free and certified safe from harmful substances.
Suitable for Co-Sleeping
Size : 125cm x 97cm
Height : 97cm/ 38.18"
Thickness : 66cm/ 25.98"
Product Details
Practical multi-use - Baby cot, junior day bed, study desk or kid's sofa
Functional drawer storage
Safe and non-toxic from harmful substances, VOC free
Baby safe paint, safe from accidental biting
Supports up to 40 kgs
No sharp or rough corners or edges
Secured gate mechanism
Removable rollers
Easy to use
Adjustable height to suit the baby's growth, 3 options
Getha Togetha Baby Cot Price
Frequently Asked Questions
1. Are baby cots safe?
Some items added to a cot may increase the risk of head-covering and can also increase the risk of accidents. This is due to the risk of suffocation and/or strangulation, as well as the chance that they could be used to climb on when your baby becomes more mobile.
2. What is the difference between a crib and a cot?
Crib and cot both refer to a small bed that is specially made for infants and young children. The key difference between crib and cot stems from their usage; the term cot is mainly used in British English whereas the term crib is often used in American English. There is no other difference between crib and cot.
Editor's Declaration: We may earn commission from online retailers. This revenue helps us to support our expenditure across our network. Thank you for your support.

Related Articles
Best Infant Formula Singapore