Best Infant Formula Singapore 2023 - 19 Best Infant Formula
Breastmilk is nature's perfect baby food. But if you can't breastfeed, or if you've chosen not to, formula milk is the next best thing. Scientists and medical experts have spent years developing high-quality formula milks that will provide your baby with the nutrition she needs.
According to the
Straits Times
, all infant formula sold in Singapore must comply with the requirements of the Agri-Food and Veterinary Authority's Sale of Food Act. This includes the minimum and maximum nutrient composition in an infant formula. Most of the standard milk formulas are developed to be closest to breast milk.
"The calorie content and nutritional composition, such as protein, fat and carbohydrates, are more or less similar across all brands,"
said Associate Professor Marion Aw
, a senior consultant at the division of paediatric gastroenterology, hepatology and nutrition at National University Hospital.
All standard infant formulas contain added ingredients that are found in breast milk, said Prof Aw. These include DHA (docosahexaenoic acid), AA (arachidonic acid), special nucleotides and oligosaccharides. "They are thought to be important for brain development and immunity, as well as promoting a healthy gut," Prof Aw added.
When you're deciding which is the best milk powder for your baby, you will need to take several factors into consideration. Think about her health and dietary needs, her age, and the cost and preparation time of different formula milks. Our guide to formula milks will help you to choose the right type for your baby. Check out this
comprehensive guide on baby milk powders
, before you decide on which formula is right for your baby and to help you make sense of the many options out there in Singapore.
As a summary, there are three different types of formula:
cow's milk-based formula
hydrolysed protein formula
soya-based formula
It's most likely your baby can have cow's milk-based formula, unless there's a health or dietary reason why she can't.
You might also come across the terms 'stage 1, 2 and 3' for baby milk powders:
Stage 1: Sometimes labelled simply as "infant milk powder", this is suitable for babies from birth to 6 months. If you are looking for the best milk powder for your newborn in Singapore, you should be looking for milk powders with 'Stage 1' label.
Stage 2: Also known as "follow on milk powder", Stage 2 is for babies from 6 months old and up.
Stage 3: Contains more nutrients and calories, for toddlers 1 year old and up.
Baby Milk Powder in Singapore (Prices 2022)
The sheer number and variety of baby milk powder options by itself is already overwhelming, let alone the prices. We'll cover the average price of most major milk powder brands in Singapore so you can be less cluttered when it comes to decision making.

Most of the baby milk powder brands come in various sizes i.e. 400 g, 900 g and 1.8 kg. Therefore, we will show you the average cost on a per 100 gram basis in order to make the comparison clearer. For example, if you are buying a 400 g size, you will need to multiply by 4 in order to get the estimate price.
For this article, we will cover only milk powder for Stage 1. The prices were taken from Lazada and Shopee which have some of the best deals for baby milk powders. The list has been arranged in ascending order based on price (from the cheapest to the most expensive). Here's the list:
2. FairPrice Gold Newborn Infant Milk Formula: $3.3 per 100 g >
Buy Now
Editor's Reminder: Please do not decide based on price alone. Think about your baby's health and dietary needs, her age, and the cost and preparation time of different formula milks. It's best to choose milk formula as recommended by your doctor in Singapore. Every baby is different and unique. If you have already bought them or some of them may have been bought by your friends and relatives, please consult your doctor before giving it to your baby.
Best Infant Formula Singapore 2022
There are many different brands for baby or infant milk formulas in Singapore. We have trawled through the reviews, Google search results and milk powder comparison information available on blogs and forums, and shortlisted the best formula milk for newborn babies in Singapore for you. Here are the best baby milk powders you can buy online in Singapore today.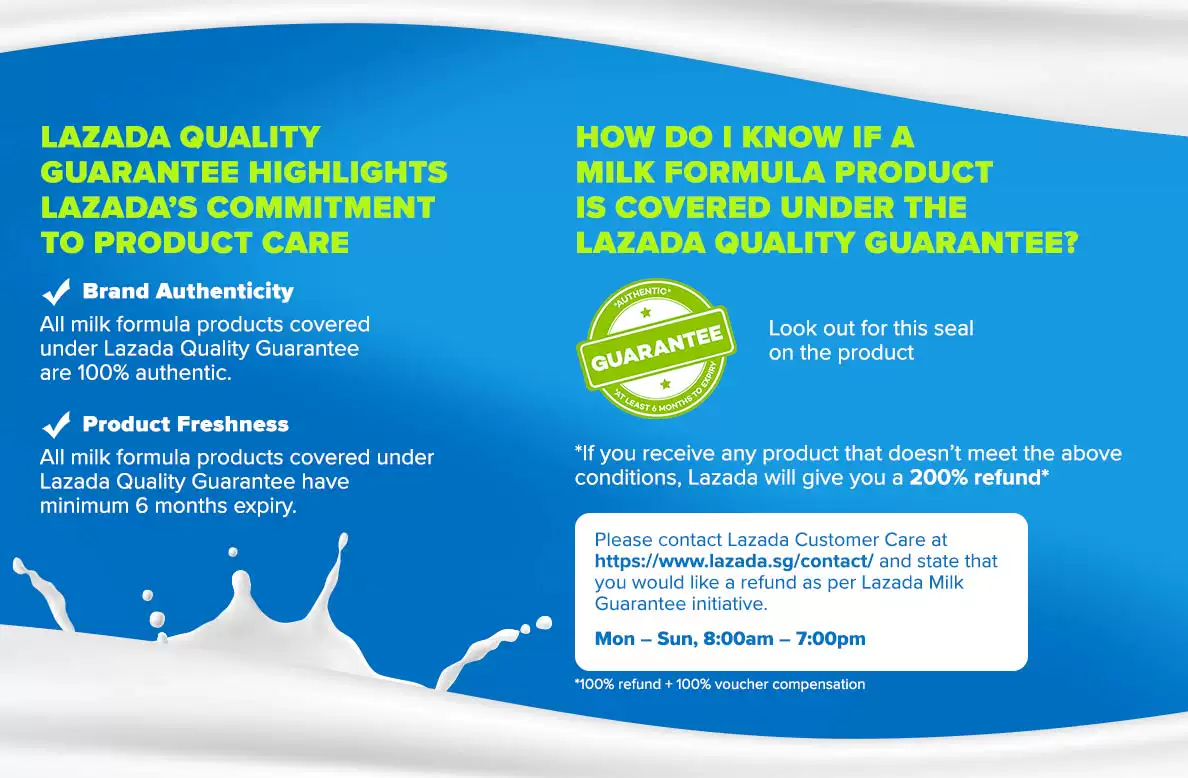 Lazada Milk Formula Guarantee
Enfamil Pro A+
Enfamil A+ is one of the most popular brands for infant formula milk in Singapore.
Aside from DHA and ARA, the Enfamil range also includes Vitamins C and E, choline, which promotes mental function and prebiotics to help good Bifidus bacteria grow. They now have 2FL, PDX and GOS as well to boost the baby's immunity.
Manufactured by Mead Johnson, the brand also offers a lactose-free version labelled "Lacto Free" and one for colicky or lactose-intolerant babies called Gentlease, which is made of a gentle protein blend that is easier to digest.
The Enfamil brand has more than 2,000 ratings and is one of the top 5 best sellers in the baby and toddler formula category of Amazon Best Sellers.
We have listed and compared this brand's milk formula product line here :
Enfamil Singapore - Price and Reviews 2022
Their formula milk, while not the most expensive, is on the higher end. Nestle also makes a budget brand called Lactogen which is more affordable.
- Hypoallergenic Milk Formula Singapore
NTUC FairPrice Singapore
For the no-frills mum, the FairPrice house brand of milk is one of the cheapest at $2.88/100g for Stage 1 and 2.

It is manufactured in Australia and New Zealand and contains all the goodness that more expensive brands offer: DHA, AA, lutein, prebiotic-GOS, nucleotides, Vitamin D, calcium and iron.

10. FairPrice Gold Newborn Infant Milk Formula: $29 (900g) >

Buy Now
FairPrice Gold Follow On Formula Stage 2: $29 (900g) >
Buy Now
Abbott Similac
The Similac brand has more than 3,000 ratings and is one of the top 5 best sellers in the baby and toddler formula category of Amazon Best Sellers. Similac has one of the widest range of milk powders in Singapore.



This product line also has a hypoallergenic option called

Similac Total Comfort

.

Similac Total Comfort is a specialized formulation featuring 100% partially hydrolysed whey protein as part of its TummiCare™ EZ Digest nutrition system. It also contains a TummiCare™ Nutrition System designed for nutrient absorption with a gentle touch. It is also 98% lactose free. This formula is suitable for toddlers with

digestive problems like constipation, tummy aches, gas and diarrhea

.
Their product line also has
Similac RS
(Rice Starch) which is a formula thickened with rice starch and fortified with GOS prebiotics. It is suitable for babies with sensitive stomachs that suffer from spit-up, vomiting or acid reflux.
Similac also has an organic option.
Similac Organic

contains
ingredients produced in Denmark according to the stringent Europe organic standards. It is
Certified Organic and non-GMO.
Similac Neosure

is a formula specifically designed for premature or low birth weight babies.
Finally,
Isomil
is a soy formula suitable for babies who cannot take milk formula.
Check out our
Baby series
for guides and research on best baby products in Singapore.
- Comfort Next for constipation / AR thickened formula to reduce spit up
- HA hydrolyzed formula for cow's milk protein allergy / Has Frisomum pregnancy and lactation formula