Best Cloth Diapers Singapore 2023
Why Choose Cloth Diapers?
Cloth diapers, unlike disposable diapers, last significantly longer than one usage. When your child already using underwear, you can continue utilize cloth diapers for a variety of purposes. So it will save more money.
Cloth Diapers vs Disposable Diapers
Here are some of the best reusable cloth diapers you can find in Singapore.
1. Alvababy Cloth Diapers
- Reusable, washable super-absorbent and comfortable cloth diapers
- Suitable for babies and toddlers 3kg-15kg (6.6 – 33 pounds) (a rough guide for reference only)
- Length of Diaper: 15" in length X 13" in width.
- One size fits all– you can adjust the diaper to your desired size (S,M or L) by snapping onto different rows of buttons on the nappy.
- Hip snaps and crossover snaps to prevent "wing droop".
- Washable, waterproof and breathable.
- Comfortable elastic legging area to prevent leaking
- Diaper with pocket to hold the insert.
Materials
- Outer layer: Polyester with waterproof and breathable TPU
- Inner layer: Faux suede cloth inside, it does not hold moisture itself, the moisture get drawn away to the insert to keep your baby dry
- Insert: Each diaper would come with one 3-layer microfiber insert
- Insert dimension approx 35.8 cm in lenght (14.09'') x 13.8 cm in width (5.31'')
Tips & Care
- Wash before first use. Please wash colours separately.
- It usually will take a few washes to reach its full absorbency (could be 6 washes or more)
- Place the insert inside the nappy through the open pocket in the back
- Liquid will be absorbed through the inner layer of the nappy to the insert
- More than one insert may be needed when sleeping or when necessary
- Nappy should be changed every 2-3 hours, and when damp, to prevent nappy rash

Alvababy Cloth Diapers Price

2. Raf Raf Baby Cloth Diapers

- Over 20 designs to choose from
- Eco-friendly, Economical & Safe for Baby Skin!
- All-in-two pocket diapers
- Designed to stay dry,
- Economical and easy to use, even for new mums & dads or grandparents with little or no experience in Cloth Diapering.
- One Adjustable Size for 3-15 kg : Front closures allow you to adjust the waist size for a perfect fit.

- Pocket style diaper : Has a pocket opening between the outer waterproof shell (or cover) and the inner layer that touches baby's skin. You can place the insert inside this pocket opening.
- Inserts absorbs the wetness and pulls that moisture away from your baby's skin
- If your baby needs more absorbency for naps or overnight, extra inserts can be added to the pocket.
- Comes with 2 microfiber inserts, additional inserts have to be purchased later

- Waterproof cover prevents leakage
- The lining that touches your baby is a soft, stay dry, microsuede fabric that is designed to gently wick moisture away from your baby's skin.
- Lining utilizes microsuede materials due to its natural performance to stay and keep dry
- Thin and breathable lining
- The diaper cover is made from a comfortable & waterproof yet breathable material that will guard against leaks.
- Leg gussets are stretchy, gentle with back elastic that keeps the poo in and helps to further prevent leakages.
Raf Raf Cloth Diapers Price
3. Charlie Banana
- Reusable 2 in 1 Swim Diapers and Training Pants
- Cloth diaper that doubles as a swim diaper and training pants
- Many designer options
- Waterproof outer layer and a soft organic cotton interior lining which is gentle against your baby's skin.
- Trim fit, easy removal, and a fine absorbent layer to minimize little accidents.
- One size stretchable diaper
Charlie Banana Diapers Price
4. Moo Moo Kow
Moo Moo Kow cloth diaper is healthy for baby's skin & comfortable, economical, easy to wash and eco-friendly.
- Uses materials that is stay-dry and easy to maintain
- Suitable for day & night.
- Suitable for hot weather.
- Comfortable Design: The encased elastic at the thigh area provide a secure fit to prevent leaks, even for heavy wetters
- Bigger Cutting: The generous cutting can be sized down to fit a baby, and sized up to fit a chubby toddler.
- Wide Pocket: The wide pocket means you can stuff more inserts to last a heavy wetter overnight. Different inserts are available for different occasions.
- Reliable Quality: The high quality PUL fabric can withstand hot washes.
Moo Moo Kow Cloth Diapers Price
5. Close Parent
- Grows with baby : From 3kg to 16kg
- One size fits most, adjustable size
- Soft elastic waistline and easy fastening for quick one step changes
- Double leg gusset to protect against leaks at any size or age
- Removable soaker and booster for variable absorbency and faster drying
- Easy to care for, no soaking, simply wash on a 60 degree wash
- Made from super soft fast wicking minkee - for the fastest air drying times
- Composition: Soaker: 100% polyester minkee microfibre, 100% super soft polyester jacquard/ Outer shell 100% polyester PU coated
- Absorbent panel in the outer shell which helps hold the wetness in the middle of the nappy to get extra dry time between changes.
Close Parent Cloth Diapers Price
SGD37.90 on Lazada
6. Pupsik Cotton Reusable Training Diapers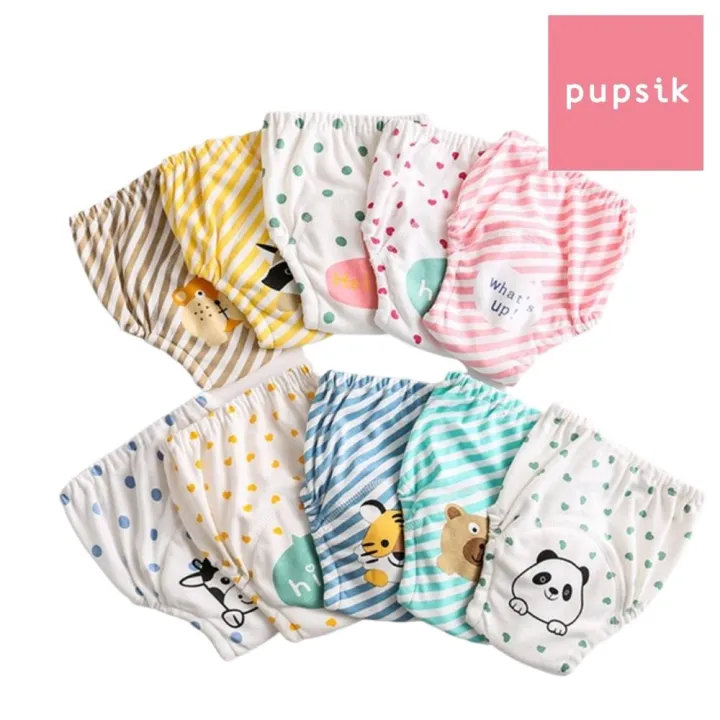 Pupsik Cotton Reusable Training Diapers
- Three-layered training pants for potty-training toddlers to wear as trainer underwear
- Fitted elastic diaper around waist and thighs is secure and keep small messes contained
- Soft absorbent 100% cotton terry cloth inner layer to absorb small accidents
- TPU water-resistant, leak-proof middle layer to keep accidents in 360°
- Soft, breathable, hypoallergenic cotton material is skin-friendly and gentle on baby's sensitive and delicate skin
- Good moisture absorption, anti-leak, heat dissipation
- Easy to wash, fast-drying
Size
M Size: 90cm babies(appeox 18m+), XL size: 110cm (approx 3Y+)
Related..