10 Hypoallergenic Milk Formula Singapore 2023
Hypoallergenic formulas are designed for babies who are unable to digest cow's milk due to milk allergy. This hypoallergenic formula contains protein that has been hydrolyzed into very small proteins.
Types of Hypoallergenic Formulas
1. Partially Hydrolyzed Formula
This formula is made by breaking down the proteins in cow's milk formula into small pieces. Hydrolyzed proteins formula require less processing to absorb, it is good option for some newborns or infants who have difficulty digesting full-size proteins or have a history of digestive problems.
However, this formula is not a good option for babies with severe milk allergy because they are not broken down small enough.
2. Extensively Hydrolyzed Formula
Formula that has been extensively hydrolyzed may be a good option for babies who are allergic to cow's milk. This breaks down the milk proteins into even smaller pieces, making them easier to digest.
3. Amino-Acid Based Formula
This formula has been broken down so extensively that only amino acids remain. Because amino acids are the building blocks of proteins, the baby receives all of the nutrients included in standard formula without having to break down the protein internally.
Hypoallergenic Milk Formula Singapore
B. Extensively Hydrolyzed Formula
C. Amino-Acid Based Formula
A. Protein Hydrolysate Formulas
1.
Nestle NAN OPTIPRO H.A. Formula (Stage 1-3)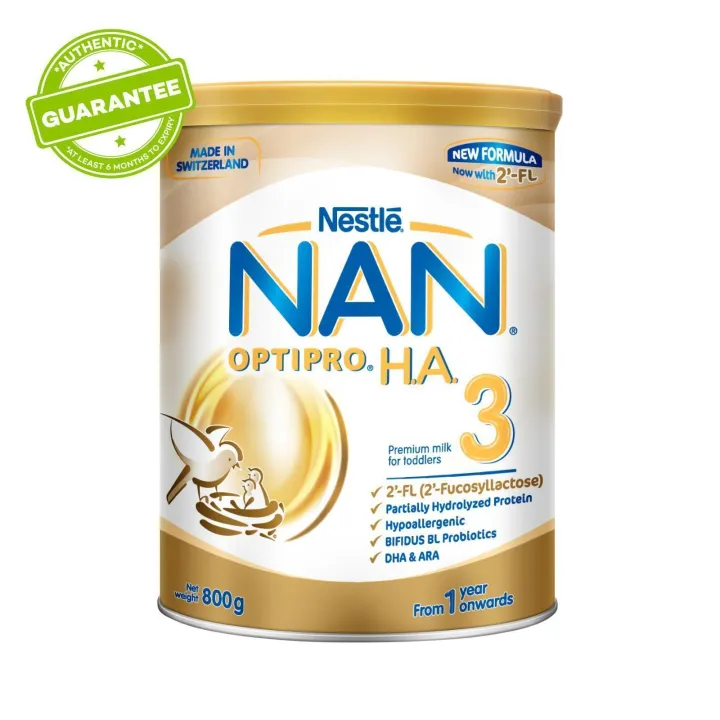 AN OPTIPRO H.A 1 provides your baby with all the nutrients essential for growth and development. It contains OPTIPRO H.A, an exclusive unique blend of partially hydrolzed protein broken down into pieces, 10 times smaller and made gentle for babies.
Optimized hypoallergenic protein blend with partially hydrolyzed proteins, 10 times smaller. High quality 100-percent whey protein and made gentle for babies. DHA & ARA - Important building blocks for the brain and eyes.
BIFIDUS BL Probiotics- Protects against potentially harmful bacteria in the digestive system and helps maintain a healthy digestive system. Iron and Zinc. No added sucrose.
2. Frisolac Gold HA 400g (0-12 months)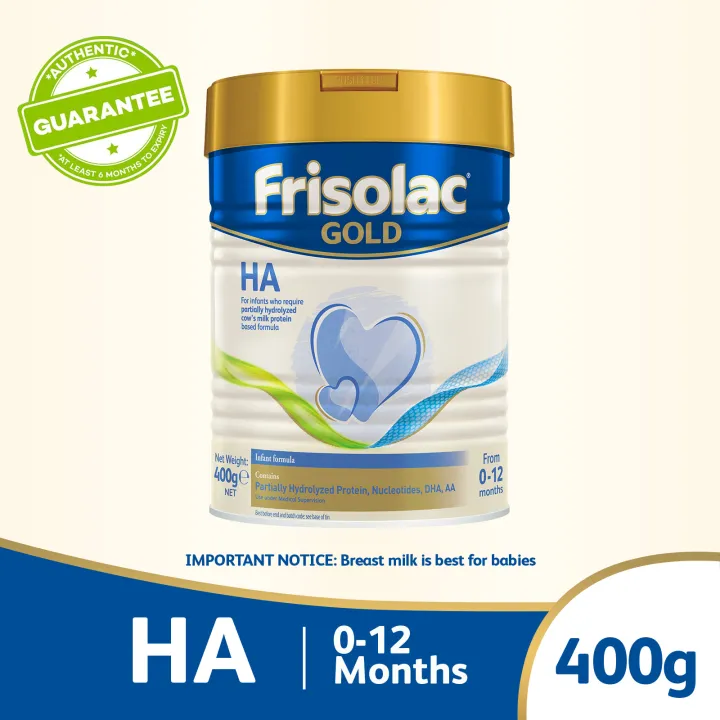 Frisolac Gold HA (Hypo Allergen) is a new special formula for the dietary management of baby / infants who require hydrolyzed cow's milk protein.It contains DHA, Nucleotides, Prebiotics (GOS) and lactose for growth and development.
Frisolac Gold HA is recommended for infants from 0 to 12 months and shall be used under medical supervision. This product is not suitable for babies with established cow's milk allergy, please consult your doctor before usage.
3. Aptamil Gold+ H.A Infant Milk Formula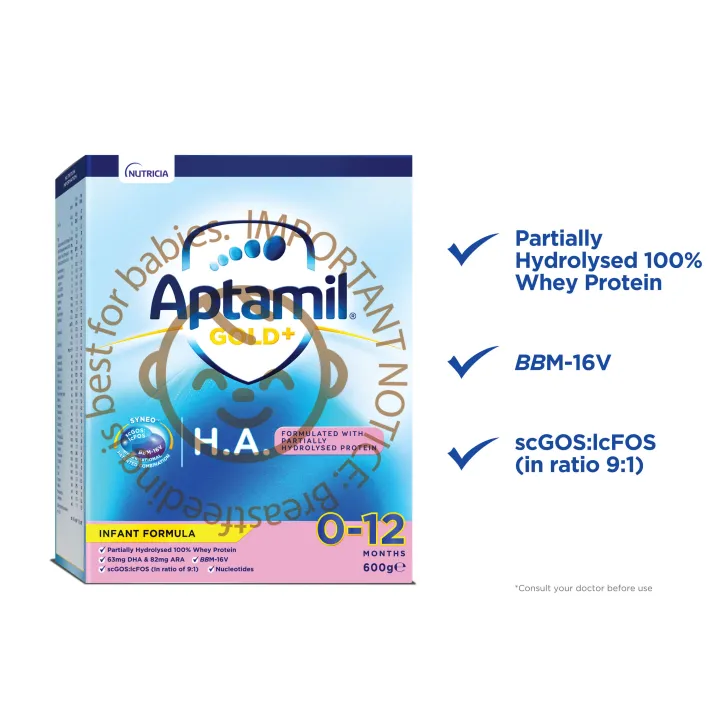 Aptamil HA Gold+ is a premium infant formula designed for babies from birth to 12 months at risk of allergy. It is suitable for use in mixed diet for infants 6-12 months. It has partially broken down (hydrolysed) protein to help reduce the allergic response of the immune system.
It is not suitable for general use and should be used under medical supervision. It is NOT to be used for infants with a diagnosed cows' milk protein allergy.
4. Similac Total Comfort Formula (Stage 1-3)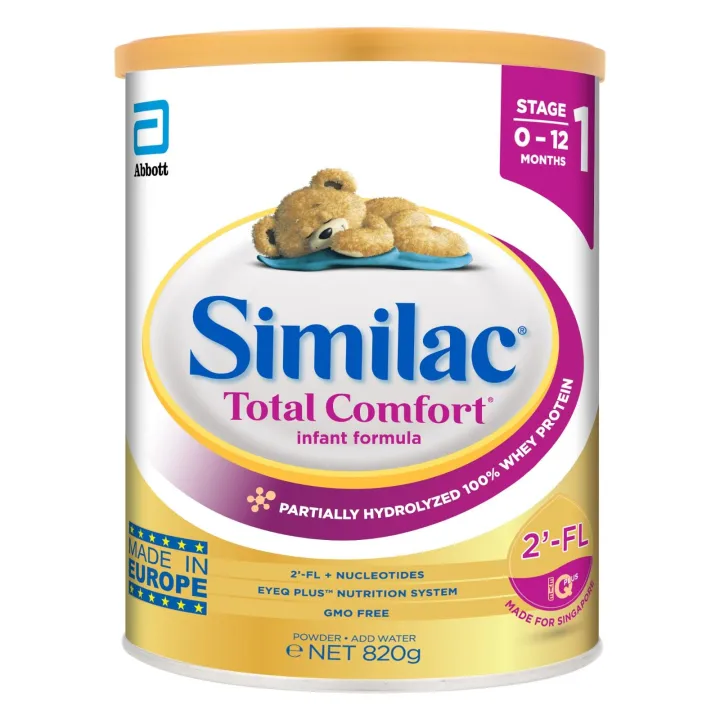 HYPOALLERGENIC & LACTOSE-FREE.
This growing-up milk is suitable for children with colic, fussiness, gas, spit-up, constipation, and diarrhea due to lactose sensitivity.

- TummiCare™ Nutrition System: Designed for nutrient absorption with a gentle touch.
- Similac Total Comfort is now improved with 2'-FL, together with nucleotides as part of Immunify® ingredients.
- EyeQ Plus Nutrition System: Contains Natural Vitamin E, Lutein; and DHA that supports brain and eye development.
- No Palm Oil: A unique vegetable fat blend.
5. Nestle NAN Sensitive Specialized Infant Formula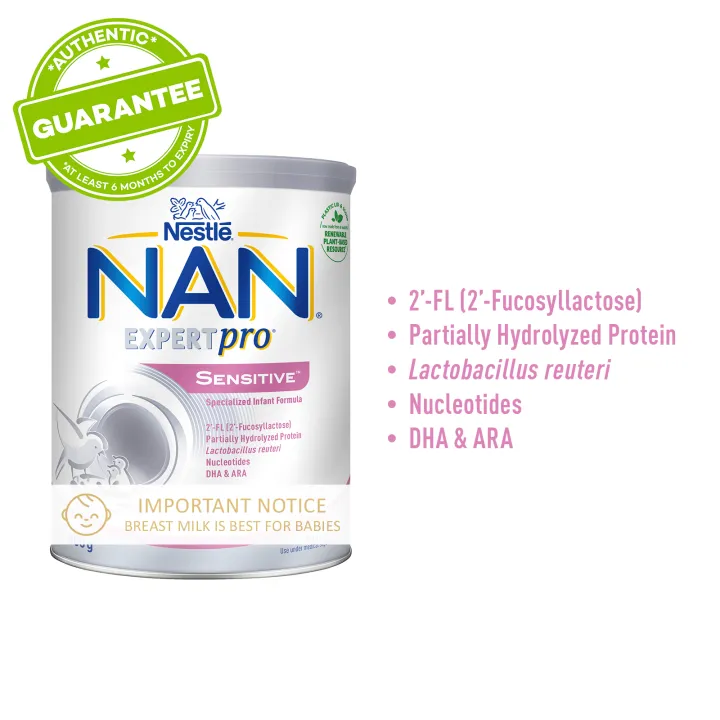 NAN Sensitive is a starter formula enriched with nutrients your baby needs to support his growth and development. It is scientifically formulated with L.reuteri probiotics, reduced lactose and OPTIPRO H.A. , a unique blend of whey proteins which are partially hydrolyzed – broken down into 10 times smaller pieces, made gentle for babies.
L.reuteri Probiotics: Suppresses the growth of potentially harmful bacteria and helps maintain a healthy digestive system.
Reduced Lactose: The lactose level is 25-percent less than that in other partially hydrolysed whey protein formulas. OPTIPRO H.A.
Optimised Hypoallergenic Protein Blend: partially hydrolysed protein into pieces, 10 times smaller, made gentle for babies.
DHA & ARA: important building blocks for the development of the brain and eyes. Iron & Zinc - help support your child's natural defences.
6. Enfamil Gentlease Formula (Stage 1-2)
- Partially-hydrolyzed protein & low lactose formula
- Scientifically formulated by Mead Johnson Nutrition with DHA & ARA.
- DHA and ARA are important Building Blocks for Brain & Eye Development
7. Enfagrow A+ Gentlease Formula (Stage 3)
Growing up milk formula for toddlers aged between 1 and 3 years, with easy to digest partially hydrolyzed protein. Enfagrow A+ Gentlease Stage 3 is formulated with easy to digest partially hydrolyzed proteins: proteins that are partially broken down, gentler on your baby's delicate tummy.
Scientifically formulated to help meet recommendations for daily DHA intake. DHA is an important building blocks for brain and eye development in babies. Choline supports overall mental functioning. Zinc & Iron: support your baby's natural defences. Wellmune Beta-Glucan.
B. Extensively Hydrolyzed Formulas
8. Gerber Good Start, Extensive HA (0-12 months)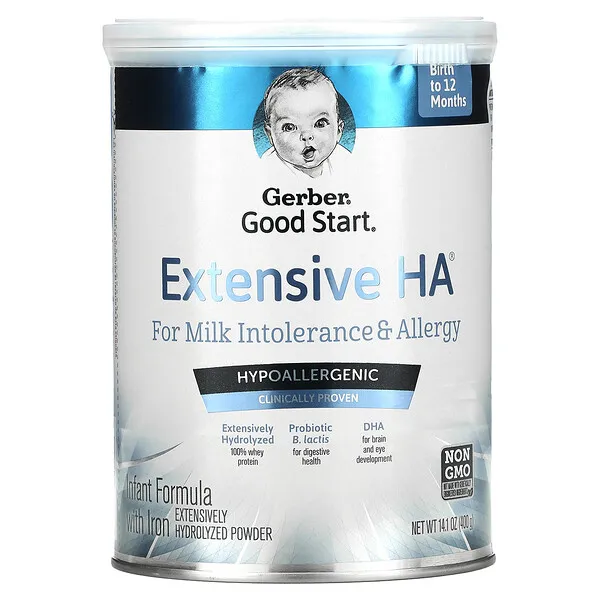 This hypoallergenic formula is designed for babies with cow's milk protein allergies (CMPA). If your baby is suspected to have or is diagnosed with CMPA, your baby's doctor might recommend changing from a routine formula to a hypoallergenic extensively hydrolyzed infant formula
9. Enfamil Nutramigen LGG (0-12 months)


Nutramigen 1 with Lactobacillus rhamnosus GG (LGG®) is with extensively hydrolysed protein. It is suitable for the dietary management of cow's milk protein allergy.

- Nutramigen 1 with LGG® is lactose-free (Not suitable for infants with galactosaemia)
- Contains 17mg DHA and 34mg ARA.
C. Amino-Acid Based Formula
10. Nutricia Neocate LCP (0-12 months)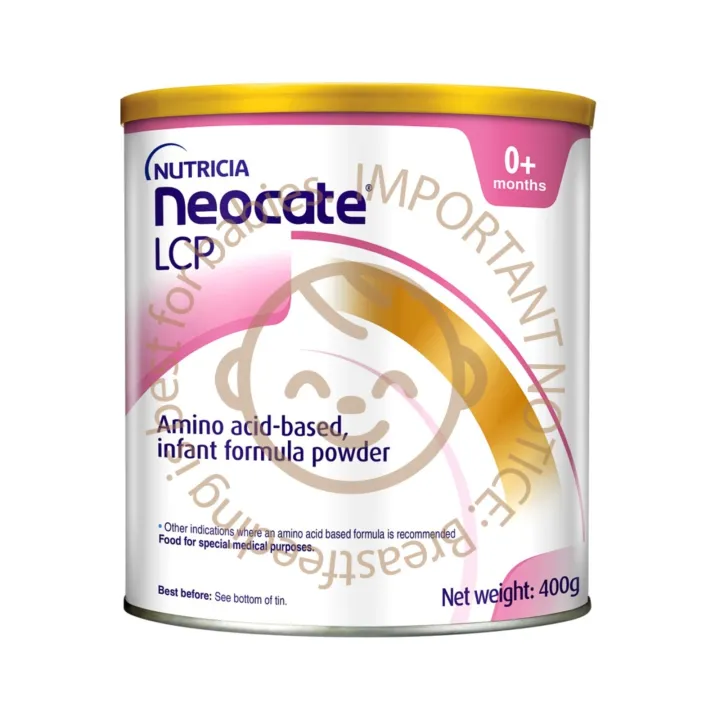 Breast milk is best for infants; and the infant formula should be used on the advice of a doctor or healthcare practitioner. The quantity of feed and the dilution should be determined by a clinician or dietitian only, and is dependent on the age, bodyweight and medical condition of the patient.
Infants above the age of 6 months should start to receive supplemental foods in addition to the formula. The infant may require more or less than the quantities given here. If other foods are introduced, this should only be done under medical/dietetic guidance and the amount of Neocate LCP given may need to be reduced accordingly.
- Amino acid based, infant formula powder.
- For other indications where an amino acid based formula is recommended.
- Food for special medical purposes.
FAQ
1. How do i know if my baby needs hypoallergenic formula?
These are 6 signs your baby need hypoallergenic formula.
a. Extreme Irritability
If your baby cries for long periods of time and/or seems unconsolable, it may be a good idea to discuss this with your doctor. He can evaluate your baby further and help diagnose a cow's milk allergy. In this case, switching to a hypoallergenic baby formula may help your baby's symptoms.
b. Family History of Food Allergies
If you or a member of your family has a history of food allergies, your baby is more likely to have one as well. An extensive French study done in 2019 showed a
strong genetic link in cow's milk protein allergies
(CMPA).
c. Constant diarrhea / vomiting
d. Your baby has acid reflux (GERD)
Acid reflux is what happens when stomach contents and acid flow back up into the throat. This is a common problem in infants, especially those below 3 months old. Hypoallergenic formula may help reduce the symptoms.
e. Eczema
Your baby's skin is sensitive, which can make it difficult to tell the difference between dry skin and eczema. Eczema is extreme dry skin that is red, inflamed, itchy, and often cracked. Babies with eczema are more likely to develop food allergies and oftentimes will
develop skin symptoms before other food allergy symptoms
appear. (
Source
)

f. Respiratory Issues
If your baby is wheezing or experiencing other respiratory issues, your baby may need immediate medical attention. See a doctor as quickly as possible.
Above all, if you're unsure, best consult a doctor for determining the best formula for your baby.
2. How To Soothe Baby Acid Reflux
– Rest their stomach. Keep your baby from eating or drinking for 30 to 60 minutes after vomiting so that their stomach has time to recover.
– Give them fluids. after 3o minutes, start by giving your baby small amounts (0.5 oz or less) of fluid every 5 to 10 minutes. If your baby vomits the fluid out, wait another 30 minutes. Then start again with small amounts of fluid every 5 to 10 minutes. Use water, breast milk or a clear, noncarbonated liquid.
– Medicines. If your child has a fever, ask your pediatrician for the appropriate medication.
All Milk Brands in Redmart / Lazada Singapore
- Gentlease for digestion problems / Post discharge for newborns
- Enfamil AR (anti regurgitation) for acid reflux and spit up
- Lactofree lactose free / Nutramigen hypoallergenic lactose free
- Comfort Next for constipation / AR thickened formula to reduce spit up
- HA hydrolyzed formula for cow's milk protein allergy / Has Frisomum pregnancy and lactation formula
Similac Milk Formula Singapore
/ Total Comfort for sensitive stomachs, RS for anti regurgitation, Neosure for premature babies, Has organic option, Stage 1 to 4