Best Sterilizer for Baby Bottles Singapore 2022
We all know that sterilizing a baby bottle in a pot of boiling water is the gold standard, but many parents prefer something a little faster and more efficient. In addition, many parent may also scared if they didn't get rid of all germs. In this case, a bottle sterilizer can be a great option for you!
How to Choose a Bottle Sterilizer?
a. Method of Sterilization
After filling a reservoir with water, most bottle sterilizers use steam to sanitize the bottles. They can either stand on the counter (powered by an electrical wall plug, battery, or USB cord) or be microwaved to create steam. In addition to steam, certain bottle sterilizers may use ultraviolet (UV) radiation to sanitize.
UV Sterilizer Vs Steam Sterilizer
UV sterilizers use ultraviolet (UV) light, while steam sterilizers use steam. Though UV light kills bacteria as effectively as steam, its effectiveness is determined by where the light shines.
UV light only kills germs when it shines directly on the bacteria-infested product surface. UV light, unlike steam, which is a gas that can easily spread across the entire surface of a product regardless of shape. UV sterilizers only shine up and down in a straight path.
b. Length of Cycle
Some models may complete their tasks in as little as two minutes, while others may require up to thirty. It may take a few minutes longer to sanitize if you have an older microwave with lesser wattage (you can confirm this in the instruction manual).
c. Drying Feature (Optional)
A drying function is not always available on all sterilizers. Some bottle sterilizers, on the other hand, will dry the objects after sterilization, which may be useful for busy parents. Additionally, you can frequently select a "dry only" option, which is beneficial when you're still washing bottles but don't need to sterilize them.
d. Size
The size of a sterilizer depends on your need. Most sterilizers can hold between four and six bottles, with extra room for pump parts and pacifiers. But there are also sterilizers that can hold up to 12 bottles!
e. Storage After Sterilizing
Certain models offer a "storage or holding" feature that allows them to stay sterile inside for up to 24 hours after the cycle is completed, as long as the lid is kept closed.
Best Sterilizer for Baby Bottles Singapore
A. Baby Bottle Steam Sterilizer and Dryer
1.
Cmbear Multi-functional Baby Bottle Steam Sterilizer
C. Baby Bottle Electric Steam Sterilizer and Dryer
D. Baby Bottle Steam Sterilizer
A. Baby Bottle Steam Sterilizer and Dryer
1. Cmbear Multi-functional Baby Bottle Steam Sterilizer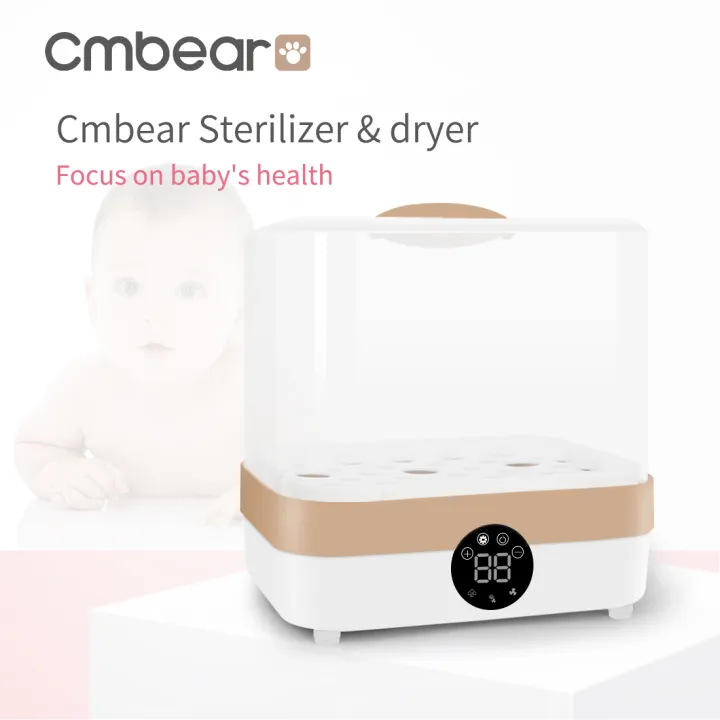 - high temperature steam sterilization
- dry completely with hot air
- LCD display
- large capacity
- touch button
- efficiently filtration: high density filter, effectively filter solid particles and soft particles in the air
2. Philips Avent Steam Sterilizer and Dryer - SCF293/01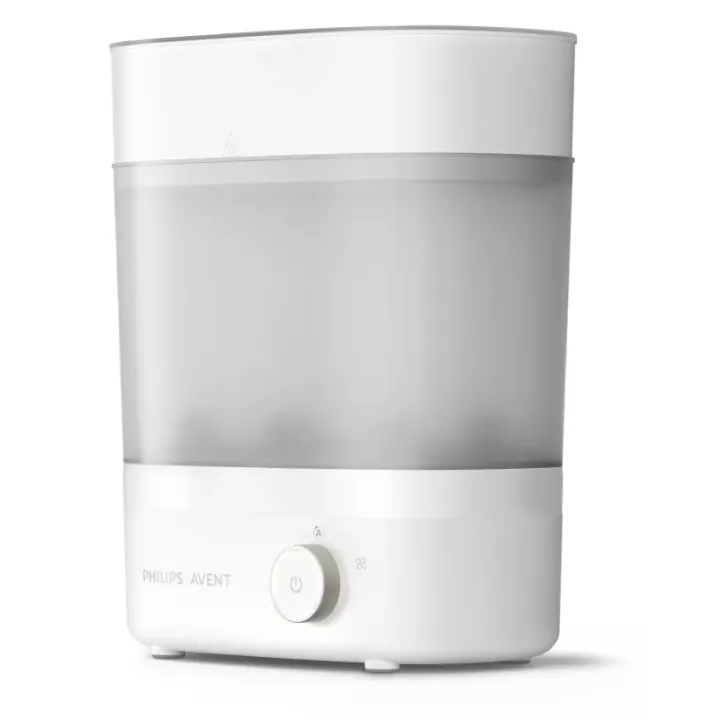 - A full sterilizing and drying cycle lasts just 40 minutes:
It takes just 40 minutes to get bottles ready for your baby's next feed . After powerful steam - sterilizing , a fosed jet of filtered air dries bottles and accessories , making them ready for instant use .
- Our sterilizer let's you sterilize, dry and store:
Our premium electric sterilizer does more than clean bottles and kill germs - it dries and stores bottles and accessories, keeping them sterile for up to 24 hours.
3. Combi Steam Sterilizer & Dryer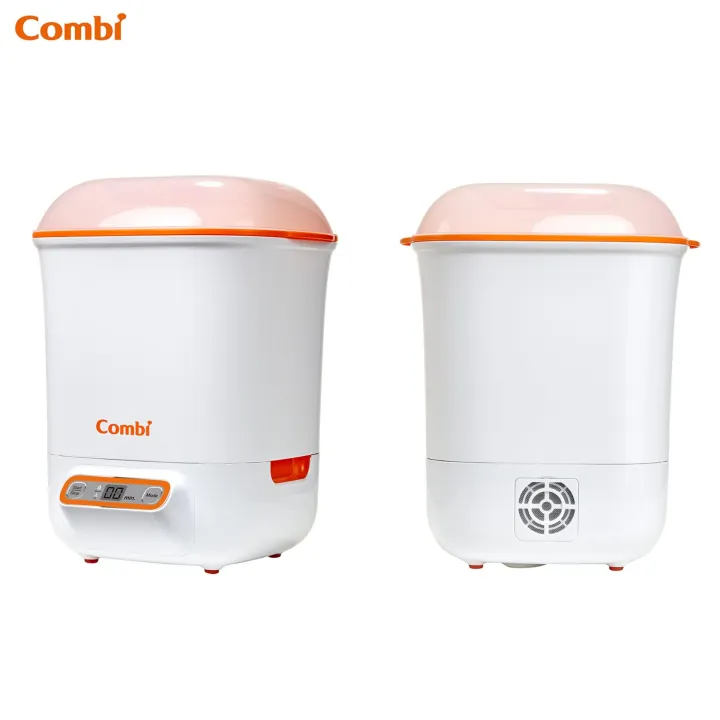 - large capacity for sterilizing baby bottles, pacifiers and small toys.
- double-wall design to prevent burning hands.
- quickly sterilize all baby items within 6 minutes.
- automatic shut off when sterilization is completed.
- only takes 6 minutes for sterilizing function and 45 minutes for drying.
- completed the whole process in 51 minutes.
B. Baby Bottle Steam Sterilizer
4. Pigeon Compact Steam Sterilizer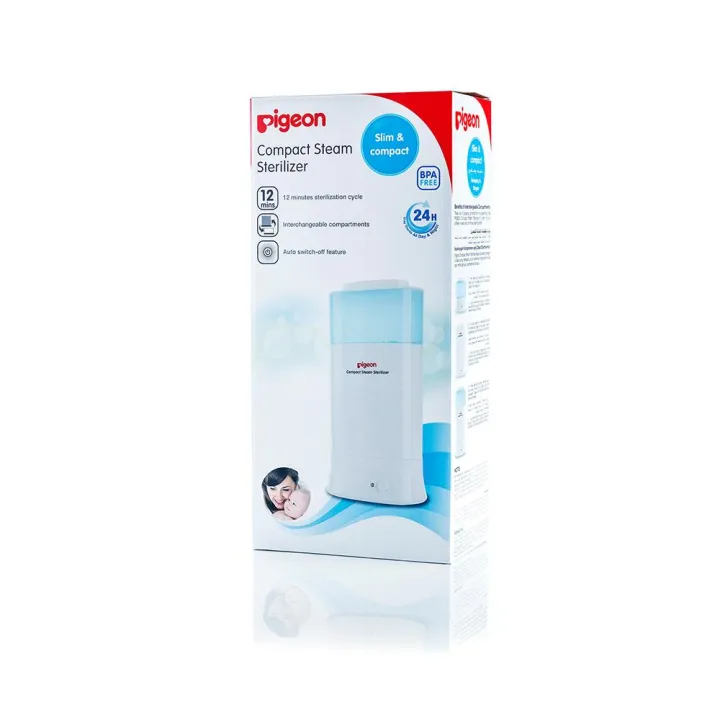 Fits 2 wide-neck or 2 slim-neck bottles and accessories Interchangeable compartment allows you to sterilize according to your needs Microbiologically proven to kill harmful bacterial effectively Swift 12 minutes sterilization cycle Automatic switch-off upon completion of sterilization cycle for added safety .
- remain sterile for 24 hours after a complete sterilization cycle
- BPA Free
- useful at home and perfect to travel with slim & compact design, takes up minimal space
Price on Lazada: SGD 79.00 >
Buy on Lazada
5. Lucky Baby® 602942 Jazzy 6 Bottles Steam Sterilizer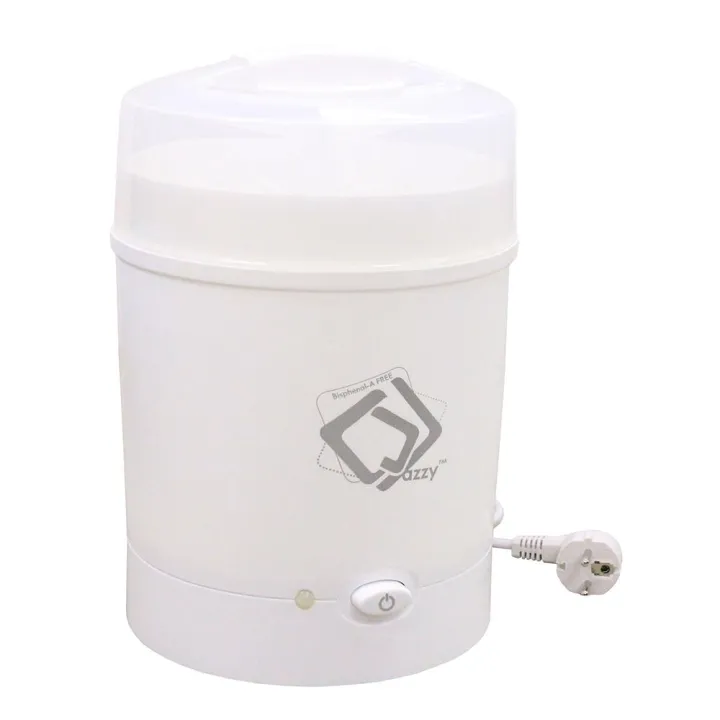 Jazzy 8 Bottle Steam Sterilizer is all you need to get rid of all the stubborn milk stains and harmful bacteria that is accumulated in milk bottles. The auto shut off feature is safe and allows more time for mothers to multi-task while sterilizing the bottles. Sterilize 6 wide / 8 standard neck milk bottles at a go!
- suitable for all types of milk bottles
- fits 6 wide/ 8 standard neck milk bottles
- shuts off automatically!
- light indicator clearly states heating status
- sterilize thoroughly to prevent bacteria from building up
- 15 minutes sterilization with approx. 100ml water
C. Baby Bottle Electric Steam Sterilizer and Dryer
6. Haenim UV LED Sterilizer (4G+) for Baby Bottle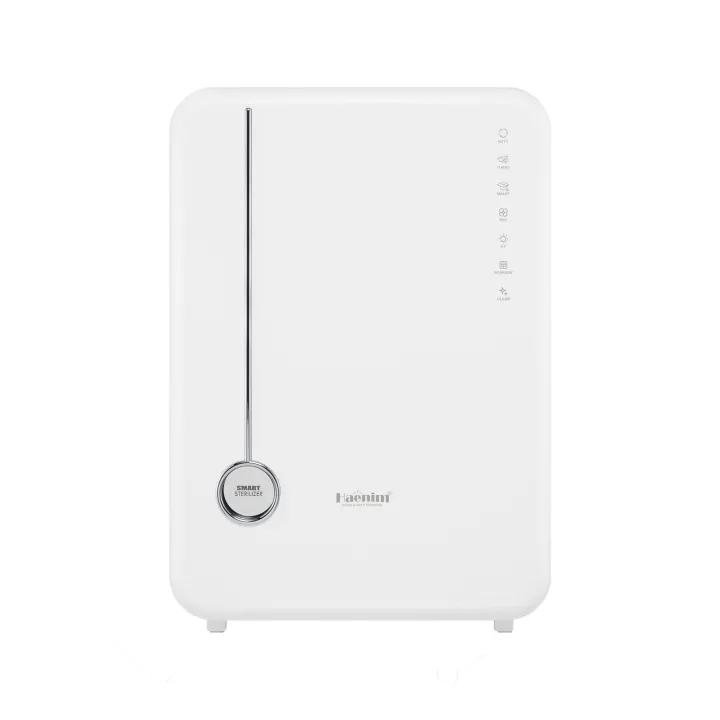 Smart Technology:
Auto detection of temperature and humidity for 24 hours which will activate drying features, sterilization and ventiliation so you won't have to do it all over again! Moreover, you can always select your own settings via the led touch screen!
Fast and Efficient:
Turbo drying and sterilizing at high speed (turbo 1/ turbo 2/ turbo 3), perfect for busy parents! 6 levels of wind strength can be adjusted powerful warm air drying that leaves no moisture and zero room for bacteria growth.
- smart function: 24h sterile operation
- uv detection: lamp change alarm
- turbo drying: extra drying power (new)
- 99.99% effective: lab tested with real usage stimulation
- cleaning alarm: maintain hygiene (new)
- clean air circulation: washable microfibre filter
- clear display: countdown timer & timer display
7. Xiaomi, Xiao Lang, Multi-purpose UV Sterilizer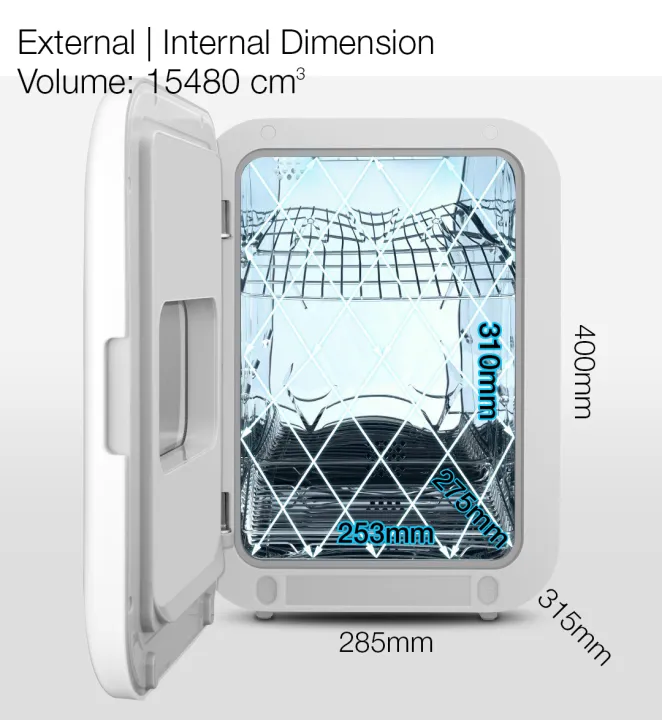 Auto Mode:
Screen indicate 45min total, 5s blinking lights, 30min heat drying Pre UVc Mode, 10min UVc germ-killing, 5min heating Post UVc mode, lastly storage mode.

UV Mode:
5s blinking signal. UVc for 7min(5min UVc + 2 min ventilation), 12min(10min UVc+2min Ventilation), 17min (15min UVc + 2min Ventilation) choice.


Dry Mode:
5s Blinking signal. Heat drying 30min, 40min,50min, 60min


Storage Mode:
UVc mode 1min, Heat drying 2min, Stop work, every 4 hours repeat 1 + 2 min UVc and heat. Total 12hr cycle.
- dry heating mode. 45- 55 deg c
- storage mode (sterilize incoming air to prevent contamination during storage)
- model: HD-ZMXDJ01
- power: 85w
- storage: 18l
- size: 285 x 315 x 400mm (external)
- size: 253 x 275 x 330mm ( internal)
- volume: 15480cm3
Price on Lazada: SGD 234.00 >
Buy on Lazada
D. Baby Bottle Steam Sterilizer
8. Nuvita Melly Plus UV Sterilizer for Pacifiers and Bottles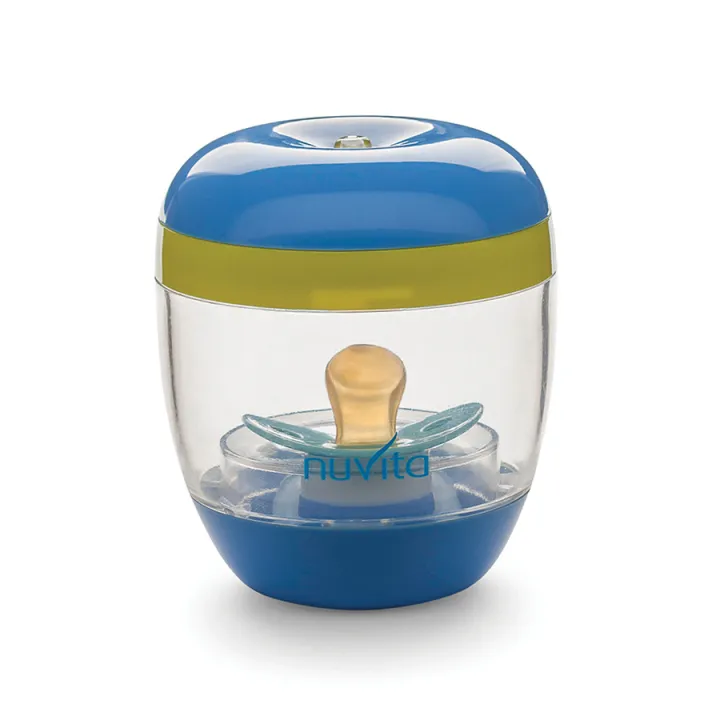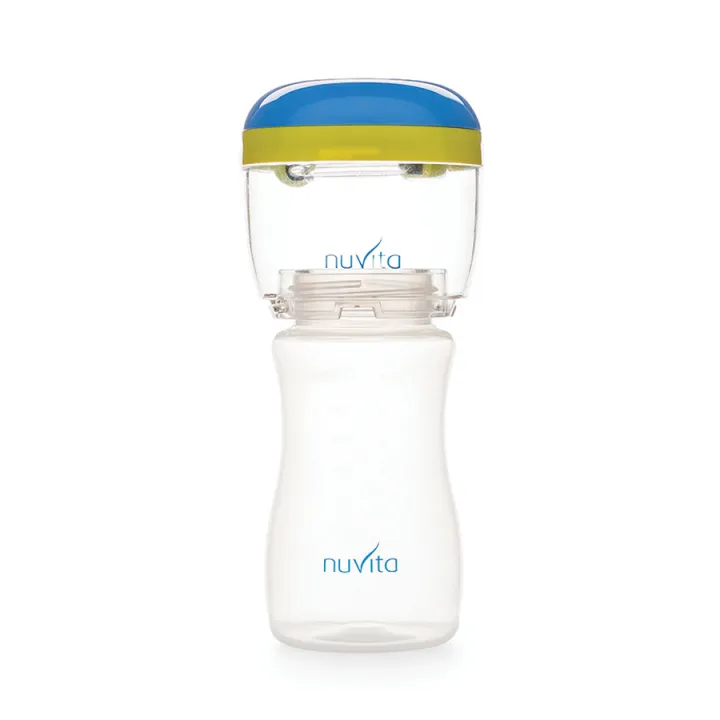 - eliminate germs and bacteria with the use of uv rays
- the combined action of uv rays and ozone quickly eliminates 99.9% of germs and bacteria.
- small, portable and lightweight
- sterilizes in 3 minutes and is convenient to keep in your purse or backpack
- useful in at any moments at home, at the park, or on the road
- suitable for pacifiers, baby bottles and teats (also without removing them from the bottle)
- suitable for wide neck bottles
FAQ
a. Is Baby Bottle Sterilizer Safe?
Bottle sterilizer is an extra option for ensuring the bottles are free of bacteria! Bottle sterilization can be done in a variety of methods, including utilizing a microwave sterilizer. They sanitize with steam and are relatively safe to use if you follow the instructions.



b. How Often Should You Sterilize Baby Bottles?
Even if used right out of the packaging, bottles should always be sterilized before use, according to the CDC. For babies under the age of three months, those born prematurely, or those with a weaker immune system, they should be sterilized at least once a day after the initial usage.



c. Do You Have to Wash Bottles Before Putting Them in a Sterilizer?
Yes. You must clean the bottles in hot, soapy water after feeds before sterilizing. Clean bottles with a clean bottle brush (only use this brush for cleaning bottles), and teats with a little teat brush.



d. How Do You Store Baby Bottles Once Sterilised?
You can keep baby bottles inside a microwave or electric steam steriliser for up to 24 hours as long as the lid is kept closed. Moreover, you can store sterile bottles in a sealed container in the refrigerator to avoid germs or bacteria.













Best Liquid Cleanser for Baby Bottles Singapore
Best Breast Pumps in Singapore
Best Baby Milk Bottles in Singapore