Best Air Purifier for Baby Singapore 2023
Home air purifiers are becoming more popular, partially as a result of rising worries about air quality. Despite the fact that your home is meant to give shelter, many of us are spending far more time indoors than previous generations.
Are Air Purifiers Safe for Babies?
Most air purifiers are perfectly safe for you and your baby, however, not all air purifiers are created equal.
Filtering air purifiers remove pollution from the air, making them beneficial to your baby's health. However, ozone-producing air purifiers must be avoided. The EPA has declared these air purifiers hazardous to both adults and children. Even in small amounts, ozone can harm the lungs.
Best Air Purifier for Baby Singapore
1. Levoit Core 300S Smart WiFi Air Purifier, H13 True HEPA Filtration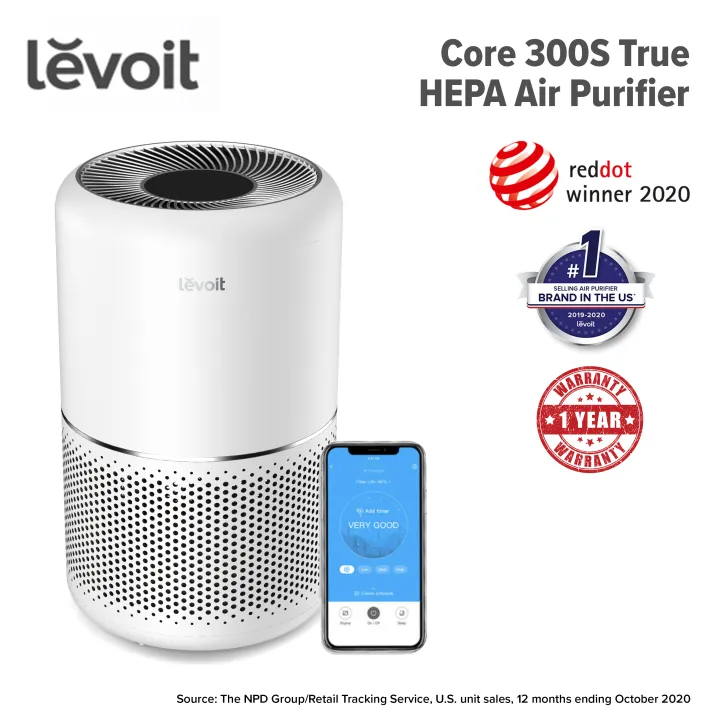 .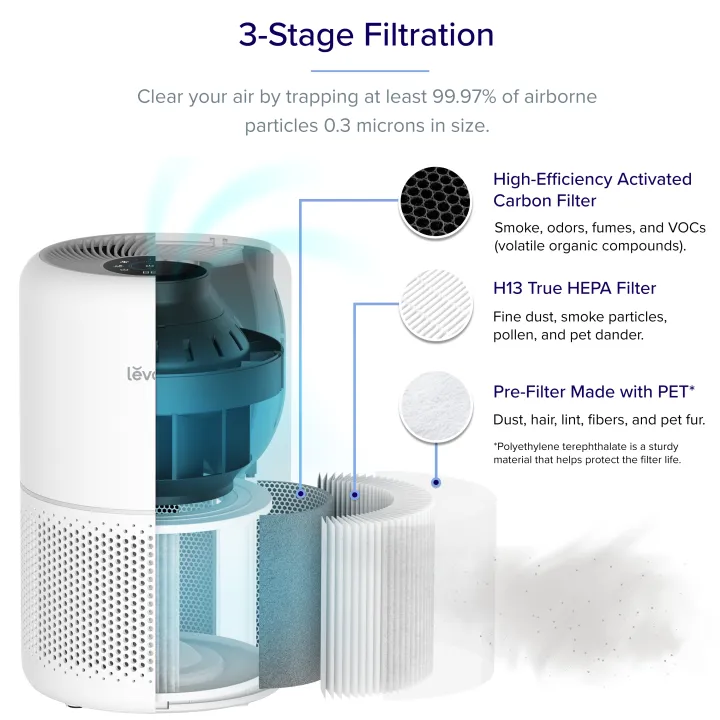 Levoit Core 300S can refresh any room up to 219 ft² in your home in only 12 minutes. It has 3 stage filtration clear your air by trapping at least 99.97 % of airborne particles 0.3 microns in size.
- high efficiency activated carbon filter: smoke , odors , fumes , and vocs (volatile organic compounds).
- h13 true hepa filter: fine dust , smoke particles , pollen , and pet dander
- pre filter made with PET*: dust, hair, lint, fibers , and pet fur
*polyethylene terephate a sturdy material that heps protect the the filter life
2. PHILIPS Air Purifier 2000 Series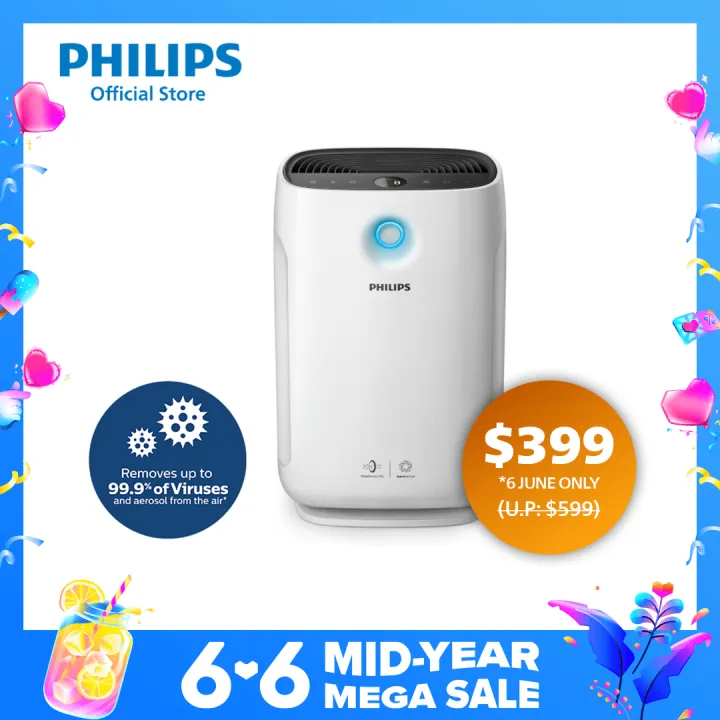 - purifies rooms up to 79 m²
- 333 m³/h clean air rate (CADR)
- HEPA & active carbon filter (HEPA filter captures 99.97% of particles of 0.003 microns)
- smart sensors for intelligent purification
- thoroughly tested for quality you can trust
- sleep mode with ultra-quiet operation
- smart control
- low energy consumption
- air quality display
- auto mode and 5x manual speed levels
- smart filter indicator
3. Honeywell True Hepa Allergen Remover Air Purifier, HPA100WE1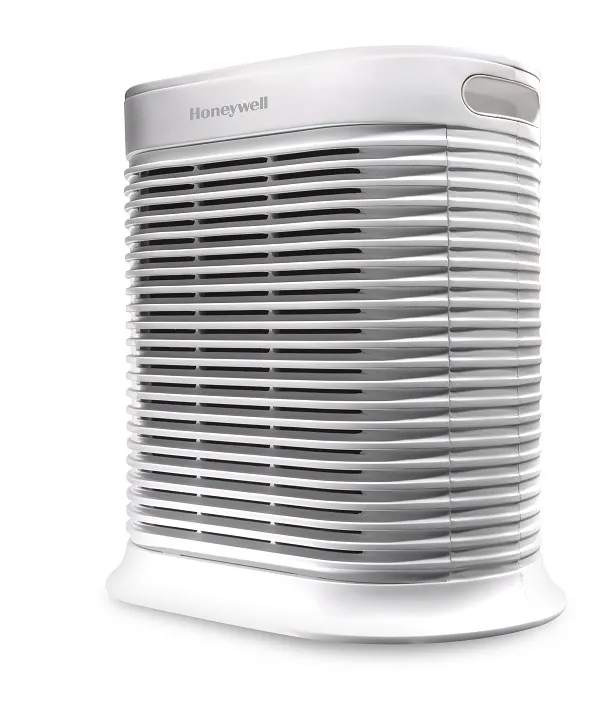 4 Cleaning Levels
:1 Germ ~ Low setting, 2 General Clean ~ Medium setting, 3 Allergen ~ High setting, 4 Turbo ~ Turbo clean for fast cleaning action
- electronic filter replacement indicators
- easy to replace and requires no tools
- electronic timer to choose from 2 hours, 4 hours or 8 hours
- light touch electronic controls
- adjustable bright/dim/off illumination control panel
- low sound operation
- CADR: 170m3/hR
- recommended coverage approx. 26m2
4. Honeywell Premium Air Purifier, HPA710WE1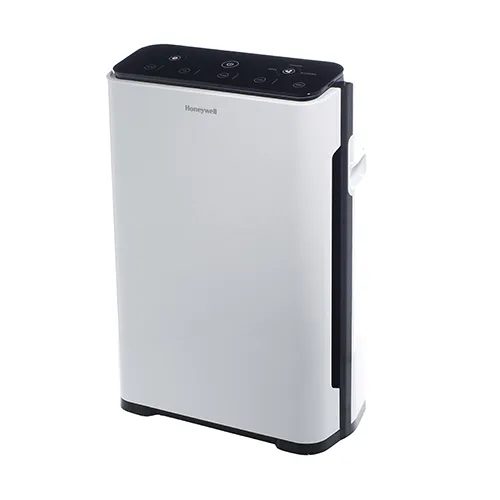 - top of the range air purifier with a sleek design and powerful air purification
- captures up to 99.97% of microscopic allergens such as mould, spores, pollen, dust, smoke and pet dander
- helps to reduce unpleasant household odours and vocs/gases
- electronic filter replacement indicators, easy to replace and requires no tools
- LED air quality sensor with three colours to easily display the air quality
- CADR: 187m3/h
- Recommended coverage approx. 33m2
5. Smart Air Sqair Best Air Purifier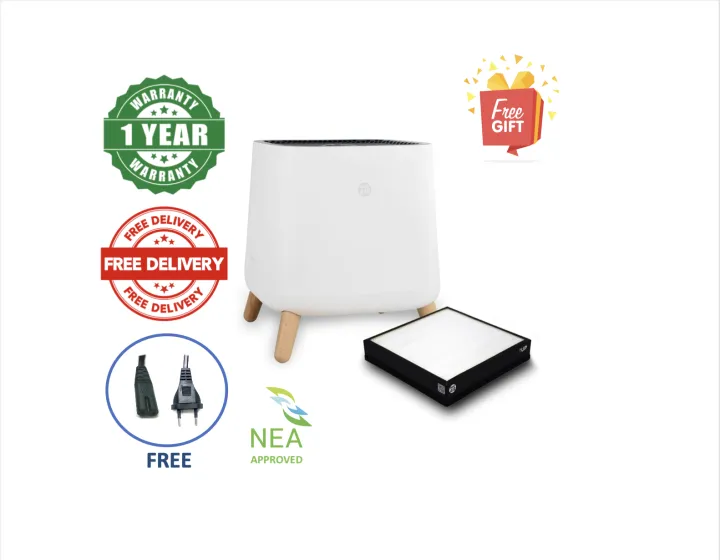 The Sqair is the Best Air Purifier that fits into almost any home aesthetic! Small and compact, this air purifier is the perfect companion for your living spaces. Despite its size, it can effectively remove fine particles and unpleasant odours from your home!
Room size: not over 40 square meters.
Cleaning speed CADR m3 / h: 315m3 / h
Noise level: 23-54 decibels
Service life for HEPA filter: 6-12 months
Dimensions Length x Width x Height (cm.): 38 x 38 x 33
Weight: 5.5 kg.
Power consumption: 38 watts maximum
Warranty: 1 year (local warranty)CDC Data shows that air purifiers help reduce COVID-19 transmission.HEPA filter air purifiers like Smart Air's have been shown to filter out COVID-19 viruses, and lower transmission.
6. Levoit Core 400S Smart Air Purifier
Levoit Core 400S is designed for use in bigger rooms while maintaining a cost-effective solution; it can purify your 1005 sqft space 2 times an hour, 403 sqft space 5 times an hour! It has a three-stage filtration system that includes a mesh pre-filter, H13 HEPA, and an Activated Carbon filter to eliminate VOCs and odor pollutants.
FAQ
a. How to Choose Air Purifiers?
i. Size
Look for an air purifier that fits the size of the room you want to use it in. In general, your filter's clean air delivery rate (CADR) score should be roughly two-thirds of the space in the room.
ii. Ozone-producing air purifiers should be avoided.
Ozone is a gas that is produced during several types of air purification. While ozone gas is used to clean and disinfect the air, but it is also a pollutant that can irritate and may harm the lungs if inhaled. Ozone air purifiers are typically used in rooms that are unoccupied at the time of use. In the United States, no government agency has approved the use of ozone generators as air purifiers in houses.
iii. When buying a filter, make sure it meets one of the following requirements:
– designated HEPA filter
– CADR rated
– the product filters most particles smaller than 1 micron
b. Can Air Purifiers Help With Pet Hair?
Pet hair and dander can be removed from the air with the use of an air purifier. Depending on the severity of the allergy, an air purifier may be sufficient to allow people to be in the same room as the family pet. It might even be enough for them to spend the weekend in the house. While there are other things you can do to help someone with pet allergies, using an air purifier is a good place to start and can surely help.
Because not all air purifiers can remove pet dander and hair, you'll want to double-check to make sure yours can.
But if you're still wondering, "Do air purifiers get rid of pet hair and pet dander?" we can assure you that air purifiers will assist you in removing these items when they are airborne. You still need to clean and vacuum after these things have become caught in your clothes, furniture, and carpet. Vacuum your entire house, including the couch cushions. If you have a lot of pet hair and dander, you should vacuum once or twice a week.
c. Can Air Purifiers Help With Covid?
COVID-19 virus approximately has a diameter of 0.125 micron (125 nanometers). Many media wrongly state that HEPA filters do not filter below 0.3 micron, and so cannot capture airborne coronaviruses. That's incorrect.

HEPA filters are most efficient at catching ultrafine particles below the 0.3-micron HEPA test standard—almost 100 percent at 0.01 micron. Therefore HEPA filtration can capture airborne corona virus.